Top Five Rancho Santa Margarita Homes For Sale February 2015
Laguna Niguel 3 Bed 2.5 Bath For Sale with an Elevator!
September 2013 Mission Viejo Market Update - Condos
September 2013 Mission Viejo Market Update - Single Family Homes
Rancho Mission Viejo's Grand Opening
South Orange County, California's newest home community is ready for it's official Grand Opening.  Rancho Mission Viejo, located inland from San Juan Capistrano is about to present model homes in this new 23,000 acre community. Model homes for the Village of Sendero and the 55+ enclave of Gavilan will finally be available for public tours Saturday and Sunday, June 29th and 30th, 2013. In addition to tours of the 11 different neighborhoods, the village core, El Prado, two clubhouses facilities and the Outpost recreation area, the grand opening will feature food trucks, music and more. 


After touring the homes, move on over to El Prado from 10:00 a.m.-5:00 p.m. for a taste of food on The Ranch with unique culinary trucks, including Calbi Fusion Taco & Burritos, Rancho a Go Go BBQ, Seabirds Veggie, Morsels Bakery, and TJ Gourmet Pizza. These trucks will have for-purchase samples of their high-end cuisine.


Music will be provided from 11am-5pm by the local Kelly Rae Country Band.


Parking will be off-site with shuttle buses running throughout the event to bring guests to and from the event site.


Builders of this community include William Lyon, Shea, SeaCountry, TRI Pointe, Ryland, Meritage, Standard Pacific and Del Webb. 


Your home inventory: Why you need one
Thanks to the Cincinnati Insurance Companies Blog subm itted by Anne Balfour:
First of two parts
Home values have been a top concern in recent years, but how often do we pause and think about the value of the possessions inside our homes? If you're a renter, homeowner or condo owner, when was the last time you took an inventory of the contents of your home?
A home inventory is a listing of the contents of your home and the cost to replace them if lost or damaged. Despite the numerous benefits in detailing an inventory of our homes, the National Association of Insurance Commissioners indicates that nearly 60 percent of Americans do not have a list of their homes' contents.

Of those who do have an inventory:
48 percent do not have receipts for their items

28 percent don't keep a duplicate copy of the list outside their home

59 percent haven't updated their lists in more than a year
Having a documented inventory of your home can allow you to evaluate the coverage you have on your home, condo or rental insurance policy to ensure you are adequately covered for your possessions. Many policies contain sublimits for certain classes of personal property such as art and collectibles. If your inventory shows values above those limits, you may want to speak to your agent about scheduling special coverage.
Additionally, knowing your home's contents can save you hours documenting damaged or lost items in the stressful days following a covered loss. For example:
Knowing the make and model of your flat panel TV will save you time having to research TV models and values after struck covered loss caused by water damage to your basement's family room.
Having a photo of your grandmother's antique desk will allow you and your insurer to more easily calculate its value after a devastating fire in your home.
Having photos of the artwork hanging in your living room will allow your insurer to pay your claim more quickly after a theft from your home.
You took great care to choose the right insurance coverage to protect your belongings. By taking the same care to inventory your home, you can give yourself peace of mind that you have sufficient insurance to protect your belongings in the event of a loss.
Part two: How to get started (Thursday)


Buyers/Sellers Pre-Sale Checklist


Once you have targeted a home to purchase, you have a period (17 days in California) to perform your investigations and inspections.  Part of your due diligence should be to check the working order and maintenance records of various systems of the home.


You should be satisfied that the ten areas highlighted in the drawing are working to properly before completing your purchase.  If there are deficiencies. you may be able to negotiate a better price or request that they be repaired before closing.


If you are selling the home, make sure you have accmpanying records available to potential buyers.  This will give them a feeling that you have pride in your home and have maintained it nicely.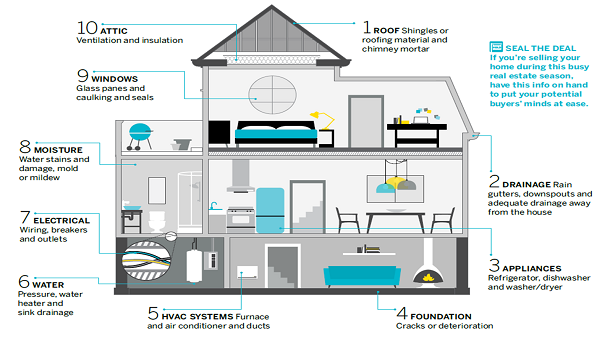 RanchoFest 2013


This Saturday and Sunday, June 8-9th, 2013 will be the much anticipated RanchoFest to be held in Rancho Santa Margarita's Central Park


This two day festival features:

Live Music / Entertainment

Kids and Adult Fun Zones

Beer, Wine & Food Booths

Local RSM businesses


Performances by community schools and local groups
Prices for the two day event are $5 for 12 and under; $10 for 13 and older. This is a pass for entrance to both days so come on Saturday and return on Sunday. Gates open 11am-10pm Sat, 11am-8pm Sunday.


This year, my band, FIVE SOUTH, has been invited to perform along with many local favorite groups including Flock of 80's, DSB, Hero for Today, The Reflexx and headliners The Tijuana Dogs.


Mission Viejo Hosts KSBR Jazz Bash

This Sunday marks the 25th Anniversary if the KSBR radio Birthday Bash Jazz Festival and Taste of The Bash. This long running event brings together music fans of all ages for an afternoon and evening of great music and great food.


Held the year at Oso Viejo Park, adjacent to the Norman P. Murray Comminity Center in Mission Viejo, this event will feature over 30 musicians and 20 restaurants offering a taste of the Bash.  Artists include many Orange County locals including Tony Guerrero, Evan Stone, Greg Vail and Peggy Duquesnel.


Gates open at 3:30pm on Sunday, May 26, 2013 with the Taste of the Bash running till 5:00pm. At 5pm the music begins with rotating performers scheduled until at least 9pm.  Tickets run $55-$180 and can be purchased on line at KSBR.org.


You can bring low-back chairs for lawn seating, blankets, non-alcoholic beverages and your own food.  Vendors will be selling food and beverages and after 6pm, the American Cancer Society will also be selling food with all proceeds will go to support their outstanding community work.


For more information visit the Birthday Bash website.